Learn Islamic Courses From DEEN SEEKHO
The Deen Seekho Institute, established in 2021, is a pioneering academic Islamic education provider of Islamic Studies in the Urdu language. Our dynamic educational programs include an array of fully online courses, an Arabic program, structured in-depth Islamic studies,
Name: Muhammad Taha son of Muhammad Tahir.
Religion: Islam
Sect: Ahl as-Sunnah wa'l-Jama'ah Hanaf.
Theory: Deoband.
Educational Activities: –
Qur'an recitation and memorization of Madrasa from Nimrah Roza-ul-Quran.
The first class was studied in Jamiat-ul-Uloom-ul-Islamia, Allama Banuria Town.
From second grade to Sabia degree, he studied in Jamia Al Arabiya Ahsanul Uloom.
Hadith Hadith done in Jamia Dar Al-Khair
Famous Teachers: –
Bukhari Sharif was recited by Hazrat Maulana Shams-ul-Haq Damat Barakatham, a disciple of Maulana Yusuf Banuri
Education was read only from Maulana Adil Sahib.
Mushkah Sharif was recited by Maulana Zubair Sahib.
Malajami was recited by Maulana Yas Sahib.
Tablighi Asfar: –
The Tablighi Jamaat also takes three days and two walks from time to time.
ہمارے واٹس اپ گروپ میں شامل ہونے کیلئے اس لنک پر کلک کریں https://chat.whatsapp.com/IElG5I5srGsLV5OR8klpDt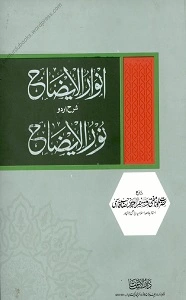 انوار الایضاح اردو شرح نور الایضاح
What Our Students Have to Say
Janab e Mhutarm ustaad Muhammad Taha Maharat rakty hn ilmo nohe or ilmo sarf my jo nihayat hi umdha asan or jadeed tariky Sy parhaty Hn jis Sy Arabi grammar ko Samjhna bhut asan hojata hn, Jazak Allah.
Hazrat Maulvi Muhammad Taha Sahib Allah bestows good rewards on you. The way you teach religious sciences does not seem like a madrassa to you. I pray that he will bless and expand your knowledge.
He is a great teacher and friendly with his students he explains everything in very easiest way for students to understand Highly recommended and most reliable teacher in my opinion
Excellent opportunity to attend a structured Islamic course, intended for the student to take away applicable knowledge of Islam.